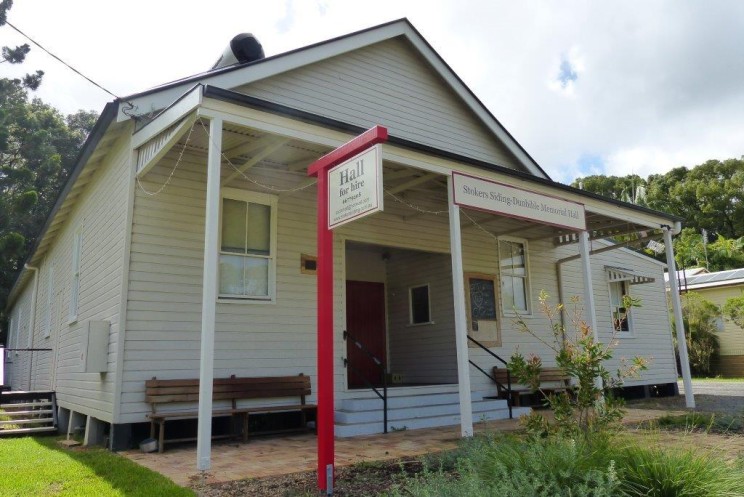 Come one, come all! Tell your stories and listen to ours! This lovely little community owned hall needs you to love her, cherish her and participate in activities and functions to keep the wheels turning.
New to the area? The hall offers a friendly atmosphere so come & pop inside! Did you know about our Friday takeaway/dine in nights from 5-8pm or our 15 Minutes of Fame nights on the 1st Friday of Aug, Nov, Feb and May.  15 Minutes hosts a mix of comedy, poetry, music of all genres (including Opera), dance and even choirs! Admission for the show is $10 per adult, free for school aged children.  Meals from $10.  We cater for V/Vegan/GF.  We operate on NSW time for those travelling through.  Enjoy a delicious meal from 7pm or just come for the show at 8pm.  Licensed bar or BYO.
Make sure you join our 15 Minutes mailing list (giving email details, name and phone No) or jump on our facebook page to grab the latest news!
Who runs the hall? Why not join the management committee to find out? People with admin, catering, web, people or handyman skills and just general time to spare are always welcome to join the group of committed volunteers and keep the wheels of the hall well oiled & turning.  Committee meetings are held on the second Tuesday of each month from 5.30pm in the hall.  Membership is just $5 per person annually (hall committee discretion).
Hall Hire Rates:
Casual usage $10 per hour up to 4 hours.
Functions including concerts, groups, exhibitions and church wakes/blessings etc $150 with kitchen additional $50. Community groups by negotiation.
Parties $150 with pre-paid bond $200 subject to Committee approval.
Sorry NO 18, 21st or teenage birthdays (younger children by negotiation).
Weddings, $300 plus $5 per head with $200 bond.
Corporate usage $300 with $200 bond.
Rates by negotiation for extended usage, subject to Hall committee approval.
If you wish to book the hall:
If you require further information, please contact the hall committee:
President, this position currently vacant
David Sunter, Vice President, 0421 679 072, email dgsunter@gmail.com
Peter Rowney, Secretary, 02 6677 9224, email petarowney@gmail.com
Peter Holmes, Treasurer, 02 6677 9047 or 0401 995 795, email holmespa@bigpond.com
15 Minutes of Fame variety show held quarterly on the first Friday (Aug, Nov, Feb and May)